We are thrilled to announce that Sweet Releaf products can now be purchased directly from our website for delivery to numerous locations statewide! We know that a lot of our customers are not able or do not want to go to a dispensary to buy our products. Or perhaps there is not a dispensary near your home. That's why we've been so focused on making this possible. It's been a very long journey to get to this point and we thank you for your patience.
SHOP SWEET RELEAF PRODUCTS NOW
Here is a step-by-step guide on how to order from our website:
1. Click on PRODUCTS at the shop, then scroll down and click SHOP. Or click SHOP NOW.

2. Click BUY NOW under each product you'd like to add to the cart.

3. Enter your address in the pop-up window to make sure you're in our delivery zone.
(Our delivery areas will be expanding soon, we thank you for your patience!)

4. Once you meet the $100 order minimum in your cart, click SCHEDULE DELIVERY.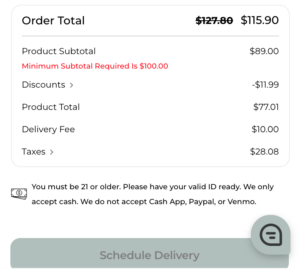 5. Enter your cell phone number. You will receive a text/SMS code. Enter the code.
6. Enter and confirm the delivery address and special delivery address notes (if needed), click CONTINUE.
7. Enter SWEET15 Promo Code and click APPLY
(code: SWEET15 for 15% off first-time discount through July 15, 2022).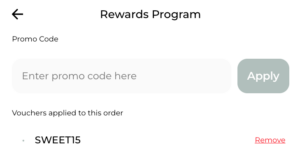 8. Choose delivery date and time window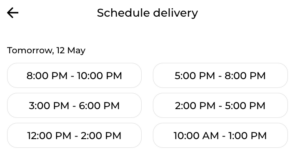 9. Click SCHEDULE DELIVERY + enter delivery address with any delivery notes.
10. Click CHECKOUT (please have cash ready at time of delivery, we are only able to accept cash at this time).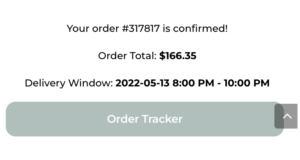 11. IMPORTANT: You will receive an SMS text after you check out with an important link at the bottom (below order confirmation and delivery details).
PLEASE CLICK THIS LINK AND UPLOAD A VALID IDENTIFICATION DOCUMENT. This is a secure 1-time only identification service required by the state.
Your order cannot be completed until you upload your identification and it is verified.
Your privacy is important to us and we do not share this information with third parties.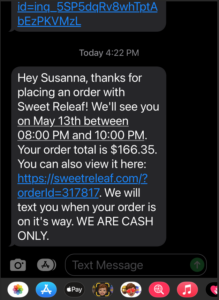 12. On the day of the scheduled delivery, you will receive a text message the morning of, when the driver is en route, and when our driver is outside. Please meet the driver outside with cash and your ID when you receive the text that they have arrived.
When you submit your ID into our system, your information will be secure. Your privacy is important to us. This only needs to be uploaded once and you are in!
——-
Have trouble placing your order? Click on the live customer support chat button on the bottom right of the Shop page for help.
Chat hours:
Monday to Friday: 9AM to 5PM
Saturday & Sunday: 8AM to Noon